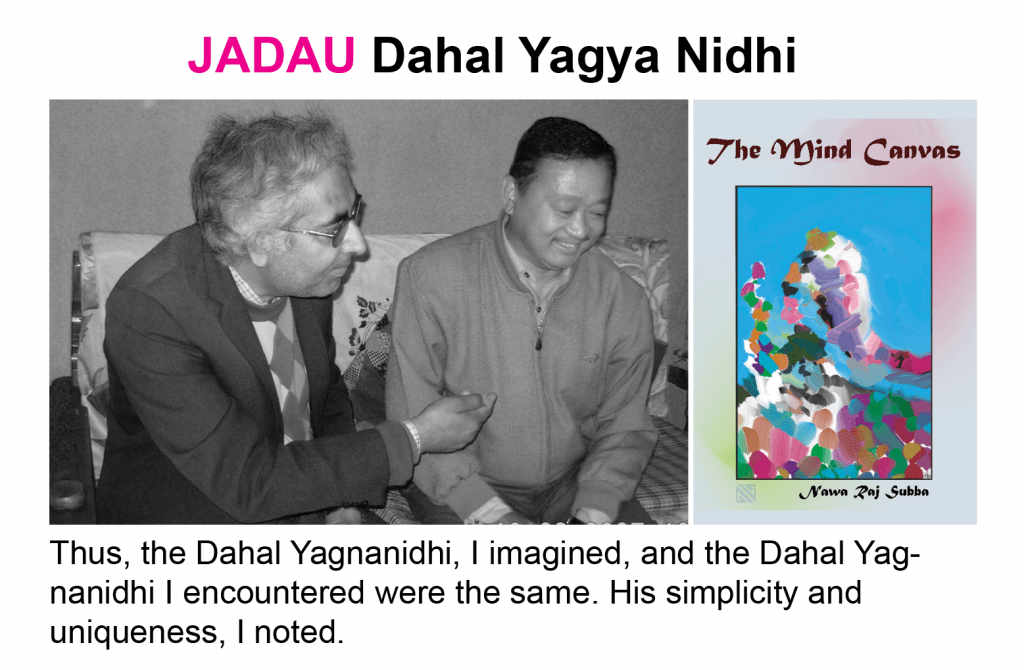 There is hardly a person in the world of life who does not see the cloud of desperation. I still see black clouds in the sky occasionally. In the clouds that cover the horizon, I still see the silver circle on the horizon. I get the power to live by looking at it. General people, poets, artists whose works have always given me strength and inspiration in life. There are among those who shine like a silver lining on the horizon of my mind. My chest swells while listening to his thoughts, reading his compositions. My head is filled with tears gazing at his photographs. Dahal Yagnanidhi is an author who has made a place for himself in my heart.
Radio Nepal had some powerful and successful programs in the thirties. The first one 'Event and Thinking' (ghatana ra bichar) and the other 'Literature Program.' Dahal Yagnanidhi was running a program on the literature on Radio Nepal at that time. The audience was captivated by his presentation. We all talked of his new rhetorical style. There were a couple of explanations that made this happen. The first clarification of engagement was his Jadao Address. His sharp eloquence was the second reason. His strong voice and courage made radio listeners enthusiastic. I was a regular listener with an interest in these series. One day, I submitted a poem to the Radio Nepal literature program in 2038 VS. He recited my poem without a title and a name on Radio Nepal in a series. I was surprised at the point. Without writing it, I hastily sent in the title of the poem. I have recently published that poem with the topic "Offer to You" in my first anthology of poetry, "Life in My Dictionary." Whatever I recall, today I enjoyed it. The poem was just like that.
In the warm chest,
My illusions broken
There are no flowers to bloom in the spring.
Let the fall of the winter
Love is not Poinsettia or Babri
Which could be select year after year
To take part in the annual fair
To wear a love necklace
The planet was looking loving
Come on, man! Let's plant peepal in loving Chautari,
Let's add two stones to the height of passion.
A sort of emotional connection emerged after reading and listening to Dahal Yagninidhi's radio and newspaper series. Many times, political power has changed in the country. When did he come from Nepal Radio, and when did he fade away? I discovered one day that he was suffering from kidney incompetence. My mind became so depressed at that time. I wasn't able to help but just wished him all the best.
I served in the district of Sankhuwasabha. I saw one of his poems, 'Magarni Maiya,' on a literary calendar one day in a friend's room. I read a great deal about it. It was after the end of the calendar year that I decided to get it. As a present, he gave it to me. I kept cutting through his "Magarni Maiya" poem. Apart from this, I had nothing to do with it. I recall that it was just an emotion. To become a fan is just like the love of one-sidedness. I like Bachchu Kailash, the beloved singer and music composer. He might not know me if I meet him anywhere. Perhaps he doesn't like me at all. The world of inner emotions is distinct. That is hard to demonstrate and communicate as well. It reveals, however, the way to walk consciously or unknowingly and also generates a world view.
I was going to release an album of new music. One day in Kathmandu, I met Khagendra Yakso, my village brother. He lives in Kathmandu now. The folk song album "Chungwa Dobhan" earned him fame. He brought up the topic of my "Life in My Dictionary" poem. He suggested getting in touch with the radio talk program by Dahal Yagninidhi. I felt ashamed. I've had an emotional friendship with him already. But, I told him, there were no meetings ever. I told Khagendra that I should send him my poems to read. That's going to be a meaningful meeting if he considers interacting with me. Khagendra delivered Dahal Yagya Nidhi with my poetry. One day, Khagendra told me that a positive signal for a radio conversation came from Dahal. He said, "Brother, Dahal Yagnanidhi has liked your collection of poems. You have to go to Radio Nepal by arranging a suitable time for you and him. He invited you."
Within a couple of days, I met Dahal. We had tea and took pictures. He was very conscious about food because of the health condition of the kidneys. He said, "Nawa Raj Ji, I'm going to speak to you about a literature problem and another Limbu culture issue." I was glad to hear that.
I was informed to arrive at the east gate of Singha Durbar at two o'clock the next day. Half an hour before that, I reached the entrance. I saw the elegance of the people coming in and out of the gate. In my imagination, I dreamed of different things. Before, the gate was not there. We used to pass in and out through the main door to reach Radio Nepal without any hesitation. Today people coming to Singha Durbar have to go through security check uu. The duty guards look at the gate and look at all visitors with suspicion. Dahal Yagya Nidhi received me at the East Gate of the Singha Durbar at a sharp two o'clock. Remembering the past, I followed him.
The two of us sat for an interview in a studio. Meanwhile, the technical recording was done by Sulochana Bajracharya. Dahal said, of course, that we will record two programs for two days. However, speaking, the matter did not come to an end on two points. He said, "I have one more point to talk with you." I also said, "Yes," and in about two hours, we recorded three points.
The interview took place. I reached the hill in my poem. I did remind of my mother and my place of birth. In the program, I recited poems about mother. I felt a little uncomfortable in the middle while reciting the poem in the studio, and my throat got blocked while reciting. When reciting poetry, I get a little emotional. With amazement, Dahal Yagnanidhi stared at me. To find out, he was surprised and assumed that the audience might not know. I met ghazal singer Khem Nepali later one day in Biratnagar. He addressed the problem that my throat was jammed in the center when discussing the program. The public seems to be paying careful attention to the presentation.
I informed my friends of the upcoming broadcast of Radio Nepal through mobile SMS. My best friends and authors were most of them. I was delighted to see the first issue of the 'Samaj ko Majheri ma' program from Radio Nepal. I recited a poem about a mother's love and childhood nostalgia. A call came from an unidentified person on my mobile phone from Kathmandu right after the show. "Uncle, your lyrics appeal to me. I like your poem." I thought she was talking with a slightly sore throat and the unknown teenage girl thanked me. I learned later that I had submitted an SMS already. She is the daughter of Hira Sharma, my good friend. I thanked her as well.
Many people thanked and congratulated me over the phone for the interview that aired that day. But from Biratnagar, Yehang Lawatiji said with a smile, "No, I shed tears while listening to your poem." I have also forgotten some of the customs that your poem recalled culture and tradition. The expressions expressed by these two people touched my heart.
Then again, I recalled, 'Dahal Yagnanidhi. I hoped before today that someone in the world would address my poem 'Before Committing Suicide.' But other poems have been mentioned a lot, but seldom. I was shocked that I was alone for real. Dahal Yagnanidhi asked me a lot about the creation of the poem. He probed me not only on the show but when Singha Durbar came out, too. He said, "This poem of yours has brought a new form and style in Nepali literature that I understood well because my sister also committed suicide due to army rape." I realized that on the earth, I was not alone. A part of the poem "Before committing suicide" is here.
Oh, Mum!
The archetype of birth and suffering,
I'm your child,
Constantly dead and dying
I'm close to suicide today
At that point, to liberate 'Sita.'
The World breaks in front of me today
Mother, even though I don't feel Love of my own
Oh, I love you!
It was an account in Chaitra 2063 VS that mentioned a trip to Biratnagar-Kathmandu. It looks just like a radio interview, but in my life, it's worth it. Numerous people cheered. I also thanked Dahal Yagnanidhi on the phone for interviewing me on the radio. He was equally pleased and said, "You have been hiding for so long. It is a pleasure to be in front of everyone." Thus, the Dahal Yagnanidhi, I imagined, and the Dahal Yagnanidhi I encountered were the same. His simplicity and uniqueness, I noted.
('Manko Majheri', Translated essays into 'The Mind Canvas' by the author)