Saint Phalgunanda prioritize the poor
Dr. Nawa Raj Subba~
An ethnicity's religion manifests itself in its culture (Mulder, 1985). Religious faith passes down from generation to generation through life experience, perception, and society (Geertz, 1985). Religion and culture are thus inextricably linked.
The above-mentioned remark implies that a person of any faith or culture could be plagued by his family's or community's culture or religion on his ability to hear and seek information other than what he already knows or wishes to know. Tension, hostility, anger, and aggression are manifestations of human nature that have found a place in society as a result of an inability to think deeply, to reason.
It is sometimes said that studying the subject in-depth is difficult and challenging for the Kirat Limbu community. Phalgunanda, such, encouraged people to develop excellent character by living a simple lifestyle that included prohibitions on sacrifice and the use of alcohol, as well as non-violence. Imagined an ideal society that was both fair and peaceful. To listen to or read, they are really beautiful and appealing. Outright opposition is neither scientific nor sensible.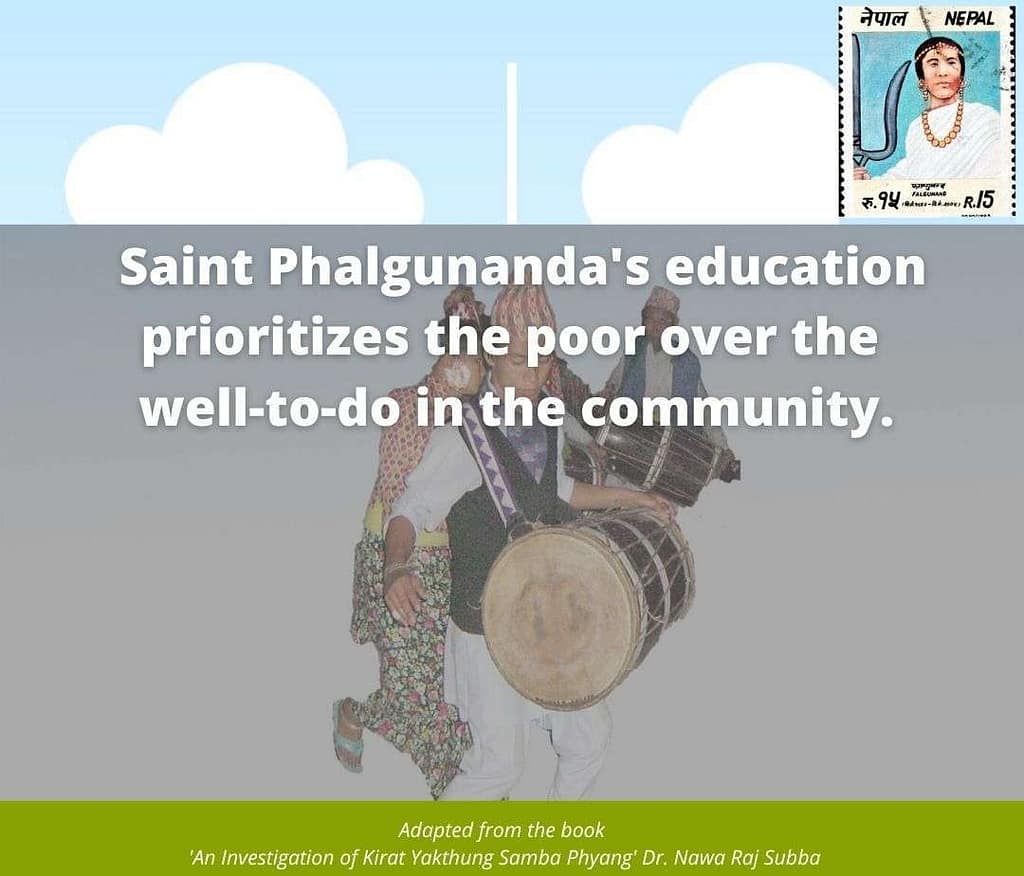 Limbu's ethnic lifestyle prevents him from putting Mahaguru's teachings into effect. The Mahaguru's teachings close the door to worship and consume meat by offering to the deity through Phedangba/ma, samba which dates back to the hunter-gatherer past. It also forbids family members from eating the meat of the sacrificial animals and birds as a substitute for the time-consuming and costly ritual. If someone follows the Mahaguru's instructions, the worship routine becomes monotonous, unappealing, and eventually evaporates. We have a social belief that we should do it and take it. In the culture of accepting the offerings of the gods with the sacrificed meat, one should not hesitate to say that it is due to one's taste and selfish soul.
The Kirat Limbu society of today is not uniform. Even yesterday, some people ran Subhangi, but the most were impoverished. Today, some villagers move to a foreign army (Lahore) to bring money and gold, but the majority of the villagers are poor. In the Kirat Limbu community, the party spends money and time on social rites like marriage and death. Society is also self-centered. Society says if you don't arrange a good party like that, we won't come. Following rituals, many Kirat Limbu become squatters by mortgaging their farms to the landlord. Some fell in Assam, Sikkim, and Bhutan, while others fell in Madesh. Kirat Limbu, who does not want to leave, gets forced to work as a servant in the homes of other wealthy Limbu or Khas Arya. The Mahaguru advised breaking this culture and style, but the selfish society favors the rich. Regardless of how good the advice is, society accuses him and attempts to stop him. The same thing is happening in the Kirat Limbu community now.
Society shows unconcerned about how poor people do rituals. Society obliged everyone to conform to social norms at all costs. Wealthy people want to show off their assets and make simple formality more expensive. They protest or become aggressive with a small amount of force. It is critical to raise public awareness by conducting a timely review of lifestyles based on the religion and culture of Kirat Limbu, such as uncontrolled alcohol consumption, banquets, and overeating. Through public awareness, it is also necessary to organize and control extravagant and costly activities. The community sees it as linked to culture, religion, and politics. In any case, the author recognizes that existing such expensive social formalities in the name of culture have hampered the Kirat community's social, economic, and intellectual development.
Under the guise of religion, Mahaguru Phalgunanda's life philosophy is an epochal social and political movement in the Kirat community. This system prioritizes the economically disadvantaged Limbu party over the wealthy or Subhangi Limbu. Kirat, who owns little or no land, would make social work such as marriage and death more affordable. Mahaguru's guidelines cut the economic burden on the family. In the Kirat Limbu society, even such a system is not universally accepted. This scene is an example of social irony at work. People want to live in luxury.
In the name of existence and identity, Limbu society has been embroiled in politics and strategy for self-interest. From time to time, self-proclaimed leaders and political greed appear. They directly agitate and agitate Kirat Limbu when they fantasize about building a Kirat, Limbuwan ethnic state. Kirat, Limbuwan, and Kirat, Even members of major political parties, buy votes and gain power by deceiving and tempting the public. No political party or administration is working hard to remove the Kirat Limbu community's superstitions and promote social uplifting. The hidden approach of a political leader is to spend money to become a leader and then earn cash after winning the election. Society's attitude sucks in a medieval mindset. Caste, religion, and place have guided politics, rather than the party's ideas and policies. Criminals, black marketeers, contractors, brokers, and capitalists dominate politics. Neo-capitalism is spreading across society. In addition, the communist government has failed to safeguard the working class. The government was unable to take socialist measures. In such a country, the Kirat Limbu community's feudalist attitude and strategy criticize Sattehang as Hindu religion. However, Sattehang has pro-poor economic upliftment policies in society.
Kirat Limbu politicians have never appeared to think or act in the best interests of the underprivileged Kirat Limbu. Politics has made indigenous people an identity problem solely for entertaining elections and gaining seats in legislatures. In public, only attractive but deceptive political phrases are sung. The same political groups and leaders have produced a schism between Kirat and non-Kirats, or Limbu and Limboos. Religion has contributed to the rise of hostility instead of harmony in society. Phalgunanda's philosophy of existence is pertinent in such a murky and dark Kirat Limbu political, social, and intellectual sky.
In short, when Kirat Dharma or Kiratsamyo is restricted to Sattehang Dharma, the meaning of the word Kirat is narrowed. Focusing on the Kirat word as a religion is not acceptable that historically Kirat proves race, existence, culture, etc. Kirat is a term that has been defined by theological, scientific, historical, biological, and archeological evidence and other sources of information. In different periods and regions, Kirat was known and called by many names. Thousands of its opponents become thousands of its friends over such a lengthy period. He would have given him a derogatory term if anyone ever called him well or wrote him. We cannot reach the depths of history if we cannot accept history's good and the bad without prejudice. At the very least, keep in mind that the term Kirat refers to Limbu's ethnicity and other ethnicities. As a result, it seems reasonable to associate the Sattehang name, route, and philosophy with Mahaguru's coinage in history.
In any case, the Kirat Sattehang has flourished the Kirat Limbu language, literature, and economy. Sattehang has paid particular attention to excessive spending and show-offs. The Kirat Limbu community's heritage and dignity have also been raised by national icon Phalgunanda. The notion and philosophy of Kirat Limbu being accepted by non-Kirat Limbu is a positive development for the Kirat Limbu community. It will be in everyone's best interests to follow in his footsteps.
Saint Phalgunanda's theological teachings are for helping the economically disadvantaged Kirat Limbu. It describes an ideological, judicial, and social movement. It is not only outstanding but also unrivaled in terms of purpose. After his death, the Nepalese government declared Mahaguru Phalgunanda, a thriving religious activist who brought social movement and change to Nepal, a national hero. Society will remember his sacrifice, penance, and service throughout history.
Source: 'An Investigation of Kirat Yakthung Samba Phyang'