Health Assessment Report Compiled
Version
Download

14

File Size

572 KB

File Count

1

Create Date

2022-12-22

Last Updated

2023-03-23
Health Assessment Report Compiled
Health Assessment Report Compiled
Summary Eastern Region Nepal 2003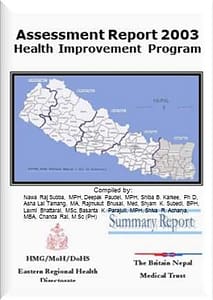 Introduction
The Eastern Regional Health Directorate (ERDH), Britain Nepal Medical Trust (BNMT), and other partners conducted a systematic evaluation study. It assesses the accessibility and utilization of healthcare services in Eastern Nepal in 2003 with full participation.
All 16 districts, comprising more than 8,061 households in 203 villages, were served.
Since this was a component of the Health Improvement Program (HIP), various committees and teams were established at the national, regional, district, and local levels to carry out the situation analysis.
It was the first thorough baseline data collection in its history that included privileged and underprivileged areas and the populace.
As a result, it was a significant step in the planning process and could serve as a tool in the future for more assessments of the region.
Findings
Health Assessment Report compiled suggests that knowledge, practice, and coverage of health were poor in the communities of EDR.
A significant disparity was observed between disadvantaged and general segments of the population.
Thus, appropriate interventions, especially those targeting disadvantaged populations, are essential. Urgent to improve the knowledge and practice on health issues and to maximize the utilization of health services.
The study results also demonstrate some good practices in healthcare delivery systems.
However, there is still enough room for improvement in strengthening the drug management system. Needs filling up staff for providing MCH services and supervision based on the plan.
Private Clinics/Nursing Homes/Drug retailers were found potential sectors to fill the gap in health service delivery from the public health system.
The study also suggests appropriate interventions for improving consultation, prescribing, and dispensing practices at health facilities.
Programs need to be focussed on the disadvantaged since the assessment has revealed remarkable gaps. Access and utilization of healthcare services between the disadvantaged and the general population us an issue.