Version
Download

39

File Size

993 KB

File Count

1

Create Date

2022-12-16

Last Updated

2023-03-23
Both Sides of Coins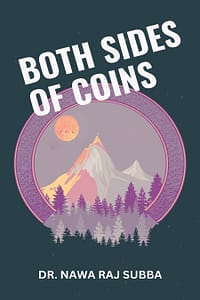 by Dr. Nawa Raj Subba
Introduction
If knowledge and science are considered coins in Dr. Nawa Raj Subba's 'Both Sides of Coins,' then an attempt has been made to look back at both sides. References to history, culture, sociology, and psychology have been thoroughly investigated. Some memoir articles in the book will give the reader a glimpse of Nepali child psychology and the past.
There are fascinating examples of literature based on objective facts rather than personal imagination or fantasy. The general reader has become interested in the study and research environment. Here are some open-minded, unbiased interpretations.
The writer has highlighted many of the questions we have seen, heard, or experienced but have not considered, but it also shows the critical side. On the one hand, there is a subtle observation of current Nepali life; on the other hand, the work of determining the future direction has been indicated.
Summary
Overall, this book will be helpful to readers and researchers who want to understand life and the world critically. This book is useful to readers and researchers who critically understand life and the world.
Some people see the day as night, while others see the night as day. Of course, people require both light and darkness at times. Readers are perplexed when the same people's eyes and pens depict time. The authors are aware that people believe in both facts and lies. He also understands that some truths, lies, or romances immediately impact us. I read the present as Yalamba watched the Mahabharata war through the top of the tree with the cut head. This pen is now like a sarcastic laugh on the battlefield. I can feel the illusion and reality of our two sides. You may experience bitter or sour feelings when you read because the truth is more acidic. In any case, I want to capture and document the moment. The current essays, Uncovered, are one of the outcomes of this effort.
Just as life and the world live in abnormal conditions, the minds, emotions, and behaviour of human beings are also fragmented and multi-faceted. Naturally, there is no uniformity in the articles written in different situations. The creator should experience the suffering of the world as beautifully as possible. However, the life of the creator is not absolute. People's circumstances are different day and night. Therefore, regular and casual environments have also diversified the composition. This pen feels the same way.